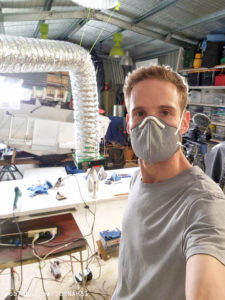 Using common household materials, this face mask is the closest homemade approximation of an N95 face mask yet. A lot of work went into this one during a pretty stressful time but hopefully it is helpful to people.
Template at bottom of page
[UPDATE, July 2020] – There has been some amazing feedback on this mask as well as photos, videos & tips improving on the design. After I released this one I immediately filmed a simple summarised tutorial on making the mask using just an iron, hot glue and scissors. The updated follow up video can be found below.]
A proper N95 or P2 mask is always the best choice- and this shouldn't be used to supplement one, However with short supplies, this homemade mask is far superior to cloth / cotton and loose fitting surgical masks.
Rather than cotton It uses common non-woven material which can be sourced from common items like reusable shopping bags. This can be stacked to your filtration needs.
At a minimum it can be made with just an iron, scissors and hot glue.
However by using a hot wire more masks can be cut at once.
Similar to an N95 Mask the seams are plastic welded which prevents air leaks around sewing holes. This can be done with an iron.
Elastic can simply be stapled or hot glued.
However welding it with a soldering iron gives better strength, heat & chemical tolerance, like done on N95 masks.
Fitment is THE most important aspect of any mask. To stop air leaks around the nose flat electrical cable is used and a strip of soft foam rubber which can be sourced from an exercise mat.
N95 masks often have additional additives to increase filtering efficiency and breathing comfort however N95 masks should be preserved for health care workers.
Remember a mask is only effective if used properly with other preventative measure.
Update regarding filter material: Viewers in the USA are now messaging me indicating some companies are now selling rolls of medical grade, filter specific material in rolls intended for use in home made masks. Apparently it is melt blown polypropylene (more efficient) and can be integrated into this mask design well between the spun bonded polypropylene layers- as used in the video. I havent tested this though.
Also many are successfully using MERV13 filter material and reporting great results. Although I wouldn't endorse it- Some health care workers have indicated with these filters and tight elastic, the design has past fit testing with an aerosol in their which is great to hear.
Bob has a great video here showing improved batch making technique including the use of a MERV13 filters. https://youtu.be/RvLvvJpFcnc
Below is the printable mask template. (Updated Pattern with grid overlay)
When printing set the print to international
A4 size and once printed check the scale with a ruler in case the printer does anything weird.
If you have no printer, using grid paper or ruler you should be able to approximate the shape with a pencil. Some people are also tracing it from their screen.
Alternative Templates:
Big thanks to Rudy Fernandez for creating the following engineering diagram of the mask design here: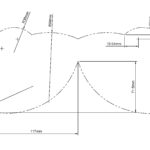 mask_dimensions-by Rudy Fernandez
mask_No-dimensions-Rudy Fernandez
3D Object on Thingiverse.com by Ed Tannenbaum can be found here
Another 3D printer template available at cults3d.com by etarts: here
Thanks heaps for you support on the channel. I hope this is helpful.
Be sure to check back for updates to this design and method.
Cheers
Craig & Kristen Turner
As a disclaimer though please do keep in mind I am not an expert. This information & video should be interpreted as theory, my own experimentation & entertainment only. Seek professional advise, do your own research and use these instructions at your own risk.